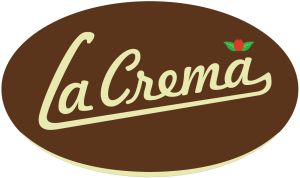 La Crema Kaffe is committed to offer high quality coffee to the coffee lover community, along with a friendly relationship based on trust.
In Spanish, in El Salvador particularly, it is usual to say "La crema y nata" to refer to the best of the best as in "The cream of the crop". That is our motto, to excel and deliver a wonderful coffee experience.
In 2015, our coffee has been carefully selected among the best coffee farms in El Salvador; we hope for bringing into your cup the best coffees from the coffee producing regions in the world.
La Crema Kaffe cares about traceability, people and harmony with the ecosystems. We are interested in giving you the best experience and we really hope we meet your expectations. We look forward to offer you organic and Rain Forest certified coffee next year. If you have any inquiry, please feel free to contact us.
Mission
To energize people with high quality, sustainable and traceable coffee. To fill in more than your cup with positive feelings, innovation, ideas and motivation.
Vision
To offer to our valuable customers "The Cream of the Crop" while caring for the people involved in the coffee chain process. Our company is a family, committed to live our values. Our customers are the essence of our company and we aim our efforts to satisfy them and meet their standards. We strive to be accountable of the success of the company, create value and be profitable for our stakeholders. All this goes hand by hand with contributing to a better environment and world.
Values
Love for people and our work
Passion for coffee
Responsibility
Innovation
Excellence
Integrity
Respect
Objectives
To satisfy and build strong relationships with our customers
To keep improving every day to meet our customers' expectations
To teach the world about high quality coffee and its amazing coffee culture
To educate the world about the difference between Single Estate Specialty Coffee and Commercial / Instant coffee
To deliver high quality coffee, a great service and a wonderful coffee experience
To manage a friendly web page and easy-to-buy e-shop
    Our Diplomas, Certificates and Awards